Orthodontics is my passion because I have, over the 20 years of serving patients, seen the way a smile can change the way a person feels about themselves and how the showing of a smile can change the mood of others. As the saying goes, "Smile and the world smiles with you."
When I started in the profession of dentistry, I believed that I was being led to serve people and give a gift of oral health. As the years have passed, I have realized that a gift that I believed I would be giving to patients, has been a gift of receiving with friendships, laughs, mission work, and just an overall happiness of providing a gift that I was given. I hope to develop many more friendships and provided many more smiles in the years to come.
I have lived and worked in this wonderful town of Prosper while serving the great patients of the surrounding North Texas cities for more than 20 years, and I have to say that it has been and continues to be a joy and honor to do so.
A little about me…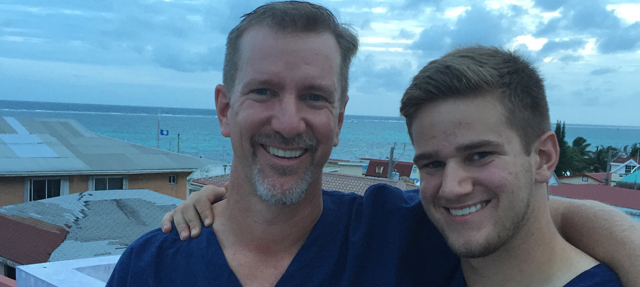 I grew up as a Texas boy in South Texas in a small town called Aransas Pass. The "small town feel" is what brought me to Prosper ten years ago, and even though the city's growth has been substantial, I still feel that it has retained its original charm. I have enjoyed every minute of living here: the town, the school district, the sports teams, and of course the people.
My family consist first and foremost as Father God who is my Lord, Savior, and guide. My wife, Charity, of 25 years is my earthly rock who has loved and supported me. We have been blessed with two boys, Brandon and Jordan, who have been blessings for Charity and me to raise, teach, and even learn from.
My hobbies outside of dentistry is playing golf horribly with family and friends and traveling this beautiful world God has created.
During our time in Prosper, we as a practice and as my own family have tried to give back when able. We have been blessed with many opportunities to work at food banks, support the local police department, sponsor many high school sports and theater, and teach oral healthcare at local elementary schools. On a larger scale, we have also gone on mission trips to provide dental care in Mexico and Belize, providing fluoride and oral hygiene instructions and food amongst the poorest of these areas.
My career has been filled with happiness and beautiful smiles, two blessings I hope to share with you and your family as well.
Dr. Gilson's Education and Experience
Dr. Gilson attended the University of Texas Dental School in Houston, graduating with his dental degree in 1995. He served in the US Armed Forces of the Navy for more than three years before moving into private practice, first in Coppell and then in Prosper.
Dr. Gilson performed all aspects of dentistry for approximately 20 years and completed continuing education in all the different procedures associated with general dentistry. However, he found a passion in orthodontics for both children and adults approximately 14 years ago. Since then, most, if not all of his continued education has been focused on providing orthodontics—so much so that he has since limited his practice to orthodontics and to making beautiful smiles.
Professional Memberships
International Association of Orthodontics
The American Orthodontic Society
Academy of General Dentistry
American Dental Association
Texas Dental Association
Dallas County Dental Society